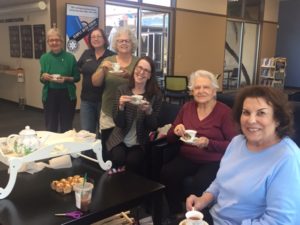 Women of TBT – Your Sisterhood
Something amazing happens when women come together in sisterhood, to share their lives, to create enriching programs, to celebrate, to respond to the call to help within the temple community and beyond.
We invite you to join us for programming that will enrich your knowledge, inspire, or entertain you. We may be reached at WomenofTBT@gmail.com.
Mission Statement:
The Mission of Women of TBT is for Jewish women of all ages to be part of a community that fosters spirituality, education, health, social action, and camaraderie. Simply put, we are a social as well as a philanthropic organization. Lifelong friendships and connections happen when women come together for social activities as well as working together on common goals. We accomplish the above by having regular meetings with activities, speakers, and refreshments; engaging fund-raising events, and actively supporting the temple members' life cycle events. Eloquently stated, "I can do what you can't do, you can do what I can't do; together we can do something wonderful!"