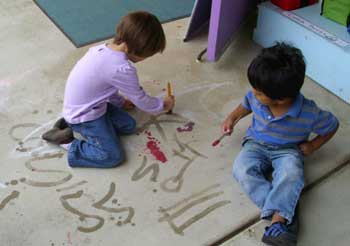 The National Association for the Education of Young Children, (NAEYC) guidelines are the pillars for Early Childhood Education and the ones that we adhere to so that we may bring to our families quality programs, engaging curriculum, and teachers they so deserve. Our approach promotes positive relationships among the families and staff to promote and encourage a child's sense of individual worth.
We are proud to engage our families in the education of their children in the many areas that fosters cognitive, emotional, physical, and social and language development. We base our program on the knowledge that all children are different, learn in different ways and grow and mature at different rates. We provide a loving environment for a child's first separation from parents. We build strong character, self esteem, mutual respect, cooperation, problem solving, and socialization skills.
Our stimulating, developmentally appropriate program includes hands on learning experiences that uses a child's natural learning abilities and interests to further his/her development. Expression of self, empowerment of speech and preparation for life following preschool is our goal. We offer programs for ages one to six years of age. We also offer a secular and secular/religious option that is rather unique to our community. Come join our schools that were started in 1967 by the Temple's sisterhood. There is a program that suits everyone at Temple Beth Torah.