KABBALAT TORAH (Confirmation Class)
Figuring out who you are, what you believe in, and the role being a Jew plays in your life is a large part of Jewish identity formation for our teens.
Taught by Rabbi Lisa, the Confirmation year is an experience of personal spiritual growth and clarification.  Highlights of the Confirmation year include weekly class, a Confirmation class Shabbaton with parents, a special havdalah and parent's blessing, and the Confirmation service itself, held on Shavuot, written entirely by the Confirmands.
This culminating year of Torah School solidifies relationships, friendships and lifelong connections for our young adults.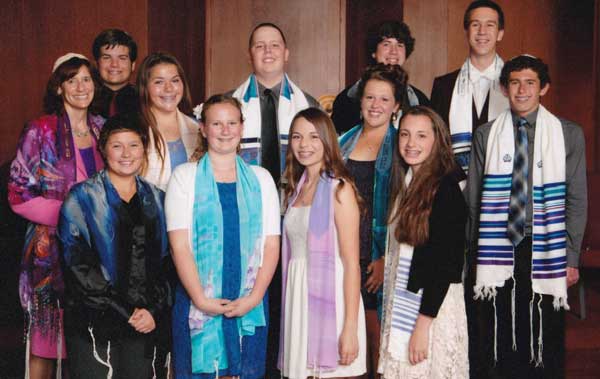 THE HISTORY OF CONFIRMATION.  In the late 1800's,  the leaders of the  Reform  Movement understood  how preposterous it was to think that a 13-year old child had a significant enough understanding of Jewish ethics, rituals, beliefs and  experience to let Bar Mitzvah be the end of their Jewish education. With great insight, they created the experience of Confirmation for both young men and young women, so that they might continue to learn and wrestle with Jewish thought, values and teachings into the most significant years of their identity formation. To this day, the Confirmation experience in Reform, Conservative and  Reconstructionist  synagogues marks a deeply spiritual affirmation of Jewish identity by our teens.