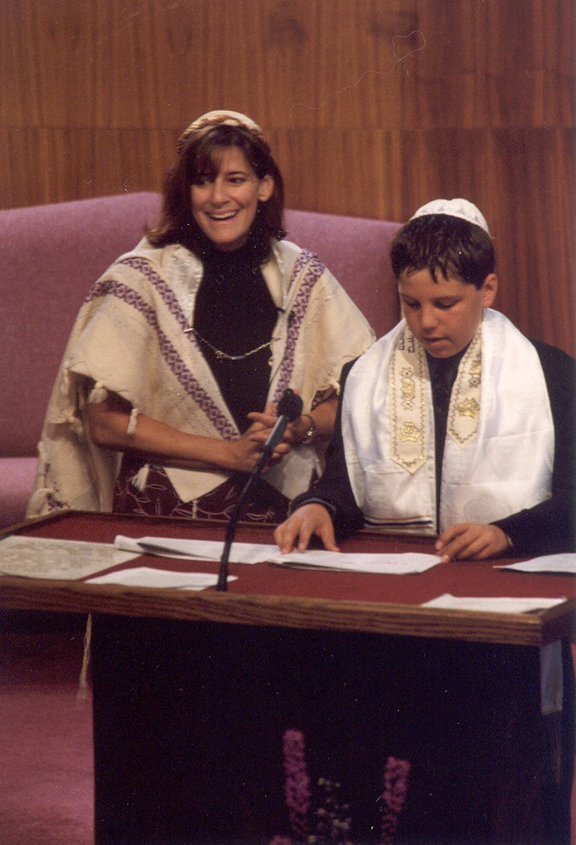 Bar and Bat Mitzvah is the amazing time in  the life of a family and a community when we lift up our young adults, celebrate their maturation, and invite them to take their place in the adult community by demonstrating a competency and commitment to that which Judaism  is built upon- Torah and Jewish prayer. Along the way, we celebrate the Jewish values that surround Torah and prayer: the doing of mitzvot, of community, of learning and of family. The entire B'nai Mitzvah experience encompasses a family for a magical year of closeness, learning,  and sweet recognition of growth and development.
Bar and Bat Mitzvah culminates in our students leading a Shabbat morning worship service, chanting from Torah and delivering a thoughtful drosha on a theme of their choosing. Family, congregants, and non-Jewish friends surround our celebrant with support. Our 7th grade Torah School year is dedicated to aspects of becoming a Bar/Bat Mitzvah, and we ask our students to do a Mitzvah Project in order to underscore that Jewish adulthood means making an impact on the world for good. Our students prepare for their service by working with our B'nai Mitzvah staff, and have weekly tutorials with Cantor Michael Anatole. They are well-prepared and comfortable by the time they stand before the congregation and are called to Torah as a "daughter or son of Torah!"  
So many of our families choose to celebrate their simcha (joyous event) with a kiddush lunch or a dinner in Meister Social Hall. Our Temple office can direct families to our banquet coordinator.
B'nai Mitzvah is the gateway to our middle-school and high school teen learning programs, including our bi-annual L'taken  Jewish Social Values Weekend in Washington, D. C. 
These audio files help prepare our b'nei mitzvah students to lead worship services.