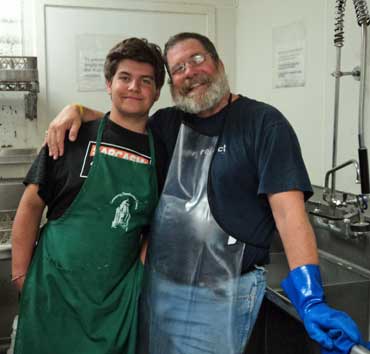 None of the work needed to maintain a dynamic Jewish congregation happens by itself.  Our professional staff, the Board of Directors and you, our congregants, depend mightily on the dozens of volunteers that make things happen at TBT. There are many committees and many individuals donating their time and energy to make this congregation as strong as it is; but there is only one way to remain vibrant, and that is to have commitment from our members.
We annually honor and thank the many individuals who are always there to help.  Thank you!!
Recently, one of our younger congregants inspired us to give of ourselves and "get out what we put in". She didn't mean this to signify only financial support, but rather to also give of our time and volunteer to help where we can so we can benefit from our efforts through the success of our congregation.
There are many volunteer opportunities.  Please take advantage of these opportunities so we can truly become a "kehilat kedosha," a holy community.  It does not matter where you want to direct your efforts, whether this be assisting with care and community, social action, facilities maintenance, membership, education, governance, Brotherhood, Sisterhood, Food Share or any other part of this community.  There is no act too small.  We have a place for you.
Here are a few ways that may appeal to your special talents or interests:
The Social Action Committee- our members are focusing on issues to alleviate homelessness in Ventura,  on immigrants rights, and reflect the tikkun olam agenda of the Reform  Movement
The Ritual Committee- our volunteers serve as greeters on shabbat, and as ushers for the High Holy Days.
The Education Committee- our volunteers help at Torah School events, planning the Purim carnival, and with family programs.
The Finance Committee – our volunteers help with budgeting, accounting and scholarship requests.
The Library – volunteers help with shelving returns and new acquisitions.
The House Committee – volunteers plan and direct improvements and look after the safety and comfort of everyone using Temple.
Please contact the Temple Office or call 805-647-4181 to discuss volunteer opportunities.