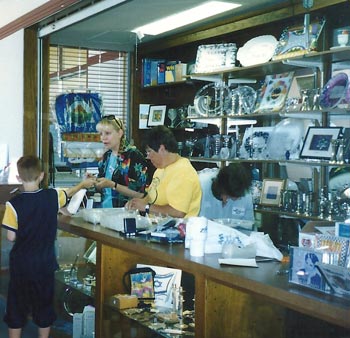 The Temple Beth Torah Judaica Shop serves the congregation and Jewish community by providing ritual and gift items. We are located in the Temple lobby and our staff of volunteers is eager to help you.
We carry a wonderful selection of items for every Jewish holiday and any gift giving occasion. We also have a lovely selection of ritual items such as talliltot and kippot, mezzuzot, Shabbat items include challah plates and covers, candlesticks and candles, Kiddush cups, tzedakah boxes and havdalah sets. We also have gifts for b'nei mitzvah students, weddings (and new babies!)
Please come and see us for all of your ritual and gift needs. Free gift wrapping is always available. All of the proceeds from Judaica Shop sales support TBT!
The Judaica Shop is open whenever Torah School is in session. During the school year, we are open on Sunday mornings, from 9:30 to noon. The Office Staff will be happy to help you most mornings when volunteers are available.
Please stop by and see all of our special items. You may also contact us through the TBT office (805) 647-4181.