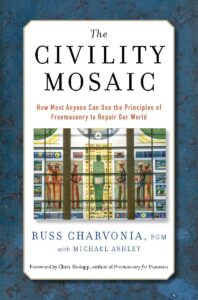 Brotherhood-sponsored
Bagel Brunch
Sunday, February 12, 9:30-11:30 a.m.
The Civility Mosaic
Speaker: Russ Charvonia
Long-time TBT member and past president, Russ Charvonia, will help us on our own personal journey to restore civility to society.
As author of The Civility Mosaic, it has been Russ's quest for the past nine years to learn how we can get back on the right track of treating others with dignity and respect, even when, or especially when we don't see eye-to-eye.
This interactive presentation will provide tools and resources to start to repair our world and create a better place to leave to our children and grandchildren.
Fresh bagels, lox and trimmings, scrambled eggs, yogurt, fresh fruit, coffee and tea will be served.
GENERAL PUBLIC WELCOME. For all ages and family appropriate. Prepaid reservations $12, 13-21 years $7.50, children under 13 year, $5; at the door $15.