For the upcoming year, we'll be publicizing classes here at TBT three months at a time, with a little extra notice to enable you to read upcoming book group selections.
Please join us in person or virtually, bring a friend, make a friend, and expand your horizons this year.
Deborah O'Neal
VP of Adult Learning
Short Story Discussion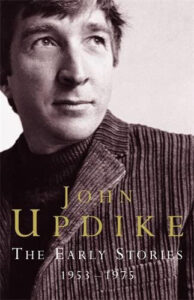 Tuesday, January 24, 2:00-3:00 p.m.
TBT Library
"A & P" by John Updike
Discussion led by Deborah Pollack
The next meeting of the TBT story group will be on Tuesday, January 24, at 2:00 p.m. in the library.
Deborah Pollack will lead a discussion of John Updike's story "A&P." This story is easily found online. Download it, read it, and let's talk about it!
You can access the story here, You can listen to the story here (15-minute audio).
Shabbat Book Discussion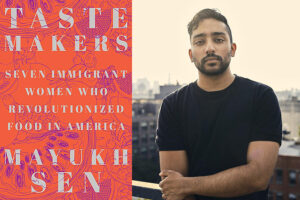 Saturday, February 18, 12;30-2:00 p.m.
Taste Makers: Seven Immigrant Women Who Revolutionized Food in America by Mayukh Sen
Discussion led by Deborah O'Neal
Taste Makers by Mayukh Sen
Please bring a dairy contribution to our potluck lunch
Come one, come all! Dinner is served! Taste Makers is an easily readable book about seven immigrant women who used their ethnic cuisines to become contributing members of twentieth century American culture. The Settlement Cookbook was written in 1901 by Jewish immigrant Elizabeth Kander to assist Jewish women with the challenging task of assimilation. Page 108 of this book contains a recipe that turned out to be essential to the health and welfare of my entire family. I'll tell you more on February 18th. Do you have such a story to tell? Join us! Bring a dairy potluck dish and an appetite for discussion.
Taste Makers can be obtained at the Hill Road Ventura Library, Thriftbooks.com and Amazon. Deborah has an extra copy to lend out, as well.
Jewish Studies: Lecture of the Month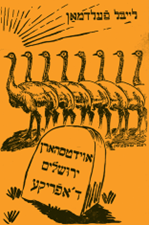 Ostrich Feathers, Jews, and a Lost World of Global Commerce
Thursday, February 2, 7:00-8:15 pm on Zoom
Dr. Sarah Abrevaya Stein, UCLA
Based upon her award-winning book, Plumes: Ostrich Feathers, Jews, and a Lost History of Global Commerce, winner of the Sami Rohr Prize for Jewish literature, this presentation by Dr. Sarah Stein explores the unexpected prominence of Jews in the boom-and-bust ostrich feather trade of the turn of the twentieth century, when feathers were coveted (especially by women consumers) as objects of adornment. We will discuss why Jews were drawn to this and other new economic niches of the modern era, and how they came to play so large a role athwart the entire breadth of the ostrich feather supply chain, from "bird to bonnet," and across the globe.
Dr. Sarah Abrevaya Stein is Professor of History and the Viterbi Family Endowed Chair in Mediterranean Jewish studies at UCLA as well as the Sady and Ludwig Kahn Director of the Alan D. Leve Center for Jewish Studies.
$5 Temple Beth Torah Members
$8 Non-Member
 If you prefer, you may register by calling the TBT Office at 805-647-4181. 
Qigong Classes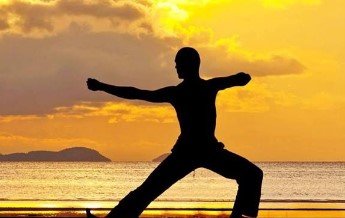 Led by Fredda Leiter
Tuesdays, 9:00-10:00 a.m., Meister Hall
Continuing
Qigong is a form of mind-body exercise. Qi means energy and gong means to cultivate.
Fredda has practiced Qigong and Taiichi since 2012, has trained in the discipline extensively and intensively, and has taught classes in person and on Zoom since 2015.
She has found that Qigong is a wonderful way to improve strength, flexibility, and balance, as well as enhancing breathing. The discipline helps students to feel grounded and keeps their minds active and sharp. It's also a nice way to spend time with other people!
The goal is all gain and no pain. Your safety and comfort are important….and most important is to smile and have fun!
To participate, you must be able to stand for about 30 minutes; we will also be seated for part of the time. Please wear sneakers or other comfortable shoes and bring water.
There is a waiver to sign; you can find this online or in the TBT office. Please bring the signed form to the first class.
Looking forward to practicing with you!