Please join us for an engaging lecture in our continuing Temple Beth Torah Lifelong Learning program, Jewish Studies: Lecture of the Month. In this month's lecture, Dr. Cliff Wilcox focuses on the American postwar women's movement, especially it's Jewish connections.
From 1960s Women's Liberation Movement to Jewish Feminism
Thursday July 7, 2022, 7:00 – 8:15 pm, on Zoom

$5 Temple Beth Torah Members
$8 Non-Member
Register
REGISTRATION NOTE: Since we have not yet activated ShulCloud accounts for TBT members, please ignore the LOGIN instructions, enter your name on the right hand side of the form, and press CONTINUE. Using a computer or tablet may make it easier to register. If you prefer, you may register through the TBT Office at 805-647-4181.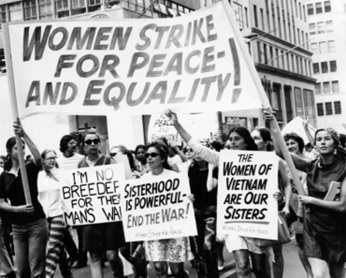 Many Jewish American women played key roles in the women's movement of the 1960s. Among these leaders were Betty Friedan, Bella Abzug, Letty Cottin Pogrebin, Gloria Steinem, and Susan Brownmiller. Yet while pushing for societal changes for American women in general, Jewish women activists realized major changes within Judaism also needed. This lecture will explore the rise of Jewish feminism in the 1960s-1970s and examine the profound changes this movement has driven within contemporary American Judaism.
Clifford Wilcox holds a Ph.D. in history from the University of Michigan, Ann Arbor and is Director of Education and Operations at Temple Beth Torah, Ventura, CA.