David Labkovski Project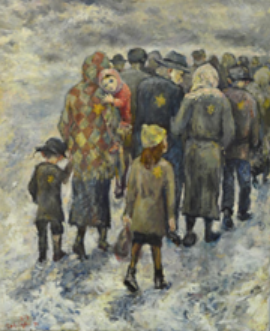 Holocaust Commemoration and Education
Student-Curated Exhibition
at
Temple Beth Torah, Meister Hall,
Wednesday, May 11th, 6:45 – 8:00 p.m. 
Special session to be hosted by our Temple Beth Torah upper school students in conjunction with the David Labkovski Project from Los Angeles.
All families and congregation members are invited to come and see this compelling and meaningful presentation of art commemorating Holocaust victims and emphasizing Jewish resilience in face of persecution.
In April, our Torah School high schoolers are focusing on study of the Holocaust – both history and commemoration. For this study, the TBT Torah School is partnering with an innovative Holocaust education organization from Los Angeles, the David Labkovski Project, which brings a unique approach to Holocaust education based upon the study of art. In particular, the paintings of the Jewish Lithuanian painter, David Labkovski (1906-1991), are used to explore the events of the Holocaust and its impact on European Jewish life, and the power of resiliency in face of tragedy. Our high school students are collaborating with educators for the David Labkovski Project to produce a student-curated exhibit of selected paintings by Labkovski and discussion of these works in context of the Holocaust. This exhibit will be held in the Meister Social Hall on Wednesday May 11th, 6:45- 8:00 pm. All members of the congregation are invited to attend to watch our students present this discussion of the Holocaust and its interpretation through art.
For more on the David Labkvoski Project, please see the Project website, and watch this 3-minute LA This Week video.