Adult Education and Programming, May 2020
Deborah Pollack
Spring has sprung and this is a great time for us to learn and grow together! We have a lot of interesting classes, discussions, and activities coming up in April and May, so be sure to look them over, put them on your calendar, reserve your place in advance if that's required, and join us.
I am also beginning to plant the seeds for next year's adult education classes, so if you or someone you know is interested in teaching your fellow congregants, please let me know. If a subject fascinates you, it may very well benefit us all.
Jewish Meditation Through Counting the Omer
Rabbi Lisa Hochberg-Miller
Wednesdays, Noon-1:00 p.m., May 6, 13, 20 & 27
JOIN on Zoom.  Check your email for the meeting link and password.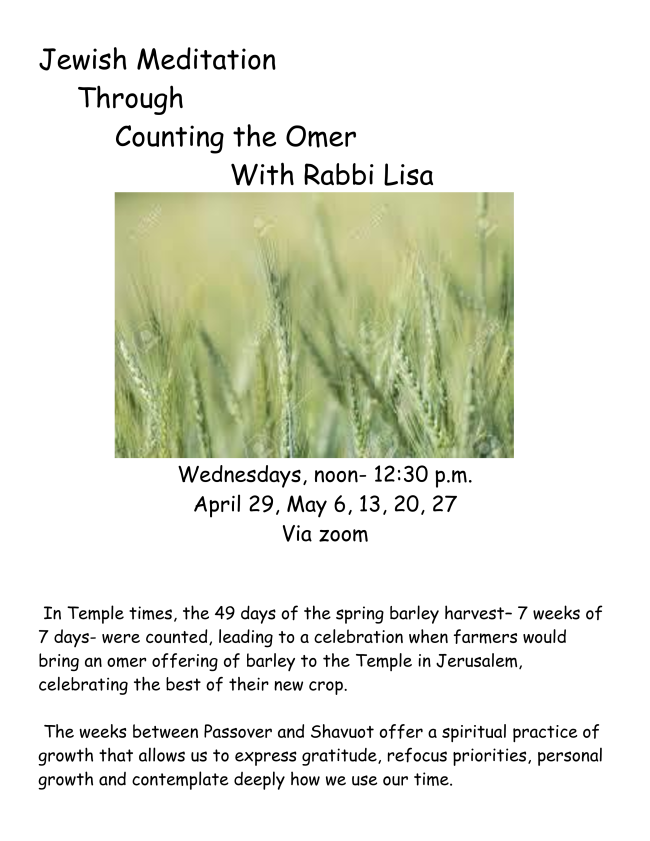 Introduction to Kabbalah
Rabbi Mike Lotker
Tuesdays, 7:00-8:00 p.m., May 5, 12, & 19
JOIN ZOOM MEETING at https://zoom.us/j/8190896166 Meeting ID: 819 089 6166
Are you ready to explore Judaism's own mystical tradition? In our 3 week exploration of the world of Kabbalah we will explore the simple (is it kabb-a-LAH or ka-BAL-ah?) to the deep (how does the interpretation of word echad in the Shema affect our understanding of God's nature and our relationship with God?).  We will address the history and practices of kabbalah and have lots of time for questions and discussion of this fascinating subject.   Our first class will be an Introduction to some of the key ideas of Kabbalah and to its interesting history.  Class #2 will introduce the central text of Kabbalah, The Zohar which is a work of pseudepigrapha (don't know what that means?  Come and find out!).  We will discuss the 10 Sefirot, the world of Gematria, the mystical names of God and more.  In the next class, we will explore Lurrianic Kabbalah, the Soul, Angels, Hasidim and focus on enhancing our own Jewish spirituality.
Understanding the Impact of Going Green: Shabbat Book Discussion 
We Are the Weather by Jonathan Safran Foer
Adam Kaiserman, Discussion Leader
Saturday, 12:30-2:00 p.m., May 16
JOIN ZOOM MEETING. Check the T'Kiah for the meeting link and password.
In We Are the Weather , Jonathan Safran Foer explores the central dilemma of our time–that we can accept the fact of global warming, but don't really fully believe it–in a deeply personal way. The task of saving the planet requires a great reckoning with ourselves and our all-too-human reluctance to sacrifice immediate comfort for the sake of the future. As a Jew, a father, and a member of Gen X, Safran Foer writes a quick but deep read using narratives and facts to lead us into the right conversations about responding to the climate crisis.
This is not the book originally publicized in our Adult Programs booklet but was added as a part of Temple's initiative to learn about and make choices that may alleviate the climate crisis.

GOD FORBID YOU SHOULD RUN OUT OF READING MATERIAL AT THIS TIME, THE TEMPLE BETH TORAH LIBRARY IS OPEN!
If you don't have a code for the front door, call to make sure that Temple Secretary Martha Richardson is on-site to let you in.
You may borrow up to 6 books at a time—enjoy and return at your leisure.
In keeping with CDC recommendations, please observe the following rules:
No more than 2 people in the library at a time.

Put on gloves from the box on the table before handling books and discard them when you're finished.

Use your own pen or pencil to record the title(s) of books you've borrowed along with your name. Leave the cards in the box on the table.
DON'T FORGET TO PERUSE THE LIBRARY CART—ANYTHING TAKEN FROM THERE IS YOURS TO KEEP FOR A SMALL DONATION.