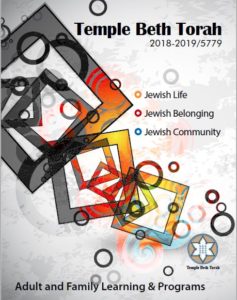 by Deborah Pollack, VP Adult Learning and Programs
By now you should have picked up your copy of the Adult and Family Learning & Programs brochure abundantly available at TBT [and RIGHT HERE].  We have some remarkable learning opportunities coming up and a new year in which to expand your mind.  Find classes you're interested in,  invite a friend to join you, make new friends as you engage in enrichment together, AND DON'T FORGET TO REGISTER IN ADVANCE, WHERE REQUIRED.  Here's what's upcoming at your temple:
SHORT STORY DISCUSSIONS
Deborah Pollack
Tuesday afternoons, 2:00-3:00 p.m., every other month
September 25
Join us as we engage in close reading and discussion of superb short stories by writers from diverse backgrounds.  Our first story for 5779 will be I.B. Singer's "Gimpel the Fool."
A TASTE OF JUDAISM AND JEWISH LITERACY
Rabbi Mike Lotker
Tuesdays, 7:00-8:30 p.m., 10/30/18-3/26/19
The three-part Taste of Judaism class, designed to introduce the main tenets of Judaism, will be followed by a 15-week Jewish Literacy class.  These classes are ideal for Jews, for their spouses, for those who are exploring conversion, and those who simply wish to broaden their knowledge about the fundamentals of Judaism's extraordinary history, beliefs and faith.  The 15 classes of Jewish Literacy touch on most of the areas of concern and interest to adults who wish to explore the holidays, sacred literature, history, spirituality, mysticism, and living a full Jewish life.  This class is required for conversion candidates.  SEE YOUR BROCHURE FOR DETAILS OF EACH CLASS.
Tuition:  There is no cost for "A Taste of Judaism" for anyone or for" Jewish Literacy" for members of area synagogues.  The suggested donation for "Jewish Literacy" for non-members is $150 plus the cost of any texts and materials.  Couples pay only one registration fee.  The suggested donation for non-members deciding to "drop in" on classes is $10 per session.  If these fees are a barrier to anyone's participation, please speak with Rabbi Lotker; nobody will be turned away.
This program is made possible by Temple Beth Torah and the Jewish Federation of Ventura County.  For more information or to reserve your seat, email or call Temple Beth Torah.
MINDFUL MIDDOT:  THE PATH OF JEWISH SELF-GROWTH
Rabbi Lisa Hochberg-Miller
8 Sunday mornings, 9:30-11:00 a.m. beginning October 21 
Encountering a trait each month, we will read core Jewish texts that help us understand which of our personal traits need growth and/or repair, so that we can be the person we want to be! Using the techniques of Rabbi Israel Salanter, the 19th century rabbi who brought the practice of mussar (mindful self-discipline) into popularity, we will work on our own traits toward self-growth. The discipline of mussar invites us to journal, reflect, pray, and consciously work on qualities such as Equanimity (peace of mind), Anger, Holiness, Feeling Secure, and more. 
Future class dates will be: Dec. 16, Feb. 24, April 28, Nov. 18, Jan. 27, March 17, May 19. 
#DoJewish @Home: JEWISH RITUALS, PRACTICE, AND OBSERVANCES THAT WILL ENRICH FAMILY LIFE, DEEPEN FAMILY JEWISH CONNECTIONS, AND INTEGRATE FAMILY VALUES INTO FAMILY BEHAVIORS
Student Rabbi Noah Diamondstein
7 Sunday mornings, 9:30-11:00 a.m. beginning October 7.     
Every family that has a connection to Judaism, whether all, most, or some of the family members are Jews, has a set of values that guide family life. Sometimes those values are spoken and specific, sometimes they are implicit and very general, but values shape family life. Jewish values, as we will learn in Rabbi Hochberg-Miller's course on Middot, are an amazing resource for imbuing a life with Judaism, and Judaism has an entire series of rituals and practices (some daily and some just once or twice a year) that can take those immaterial values and make them tangible! Over the course of seven weeks, we'll discuss major categories of Jewish ritual and practice, learn where they come from and how to perform them, and make Jewish actions feel doable, customizable, and ready to plug-and-play at home. You get out what you put in! If we take Jewish practice and action seriously, and ensure that they are grounded in middot, they will meaningfully enrich our lives every single day.
Future class dates will be:  Dec. 9, Feb. 3, May 5, Nov. 4, Jan. 13, March 3.                
PARENT AND CHILD CHALLAH BAKING
DeAnna Scott
Friday afternoon, October 12, 2:00-3:30 p.m.
Are you ready to learn, or improve upon your ability, to make a handsome and mouth-watering challah?  Challah maven DeAnna will bring the dough and some wild mix-ins so that we can focus on enhancing our kneading and braiding skills.  Children ages 4 and up are welcome to participate, but you don't need a child to attend, and each of us will walk out with a homemade Shabbat loaf!
There will be a materials fee of $4.00 for adults, free for pre-B'nai Mitzvah children.  Enroll by 10/10; email Deborah Pollack at dpollack@vcccd.edu
SHABBAT BOOK DISCUSSION AND POTLUCK
12:30 – 2 p.m. in the Library
October 13:  The Weight of Ink: A Novel by Rachel Kadish
Come join us for a lively book discussion; please bring a non-meat item to share. Facilitated by Alan Kirschbaum.
About the Book: Helen Watt, an aging British historian and expert in Jewish studies, is invited to evaluate old manuscripts found during the renovation of a house in London.  Her assistant, Aaron Levy, is a young American graduate student and secular Jew. What they find – and the implications of it – astound them both. Through Kadish's skillful writing, the reader effortlessly shifts between the worlds of both Helen and Aaron in modern-day London, Israel in the 1960s, and London in the 1660s with her compelling, richly-drawn characters.  At nearly 600 pages, better start this one early!